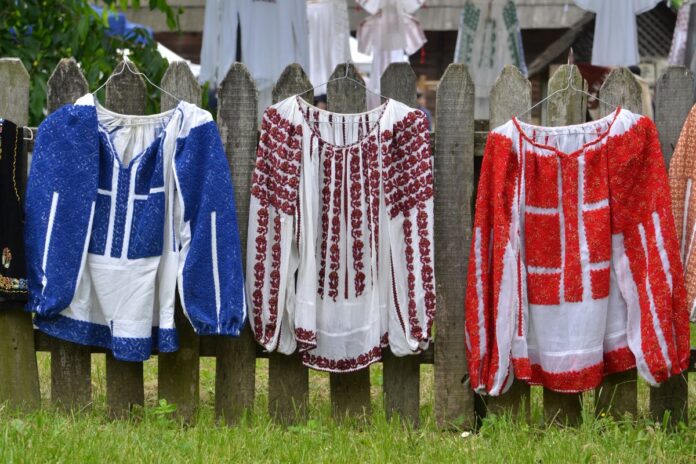 Every year on June 24, people worldwide observe the Universal Day of Romanian Blouse. It emphasizes the feminine shirt with stunning needlework that serves as a sign of Romanian tradition.
The major component of the folk costume, known as the "IA" or Romanian blouse, is brought to the public's notice on June 24. The Romanian blouse was made from a single piece of linen, hemp, cotton, or silk and embellished with beads, sequins, gold thread, or stitches that represented stylized, geometric, or natural shapes. It is a particularly admired clothing item outside of the country due to the chromatic harmony, the coseams' complexity, and the materials' finenessThe campaign to add the well-known garment to the UNESCO World Heritage List culminated in the creation of the Universal Day of Romanian Blouse.
Interesting facts about the traditional Romanian blouse
The traditional Romanian blouse was regarded as a sacred piece of clothing that accompanied the woman throughout her life and was worn during celebrations, events, or every day. The purpose of the meticulously sewed magic emblem in the past was to shield the bearer from bad luck, charms, and evil spirits. The young women learned the technique of folkcraft from their grandmothers or mothers, as well as the correct prayers, which had to be recited before commencing the spinning of wool, weaving, or thread weaving.
The Romanian blouse's dimensions are precisely calculated by the craftsman, and the placement of each embroidery is precisely specified. Romanian women infuse their conception with a portion of their feminine perfectionist nature, aspirations for beauty, goodness, happiness, and love.
Traditional designs, which turn a seemingly ordinary blouse into a great work of art, are rich in symbolism. The Romanian blouse conveys a tale regardless of the geographical place from which it originates.