Sorana Carstea is accused of transphobia after she posted this message on Instastory: Make Men Masculine Again. Make Women Feminine Again. Make Children Innocent Again.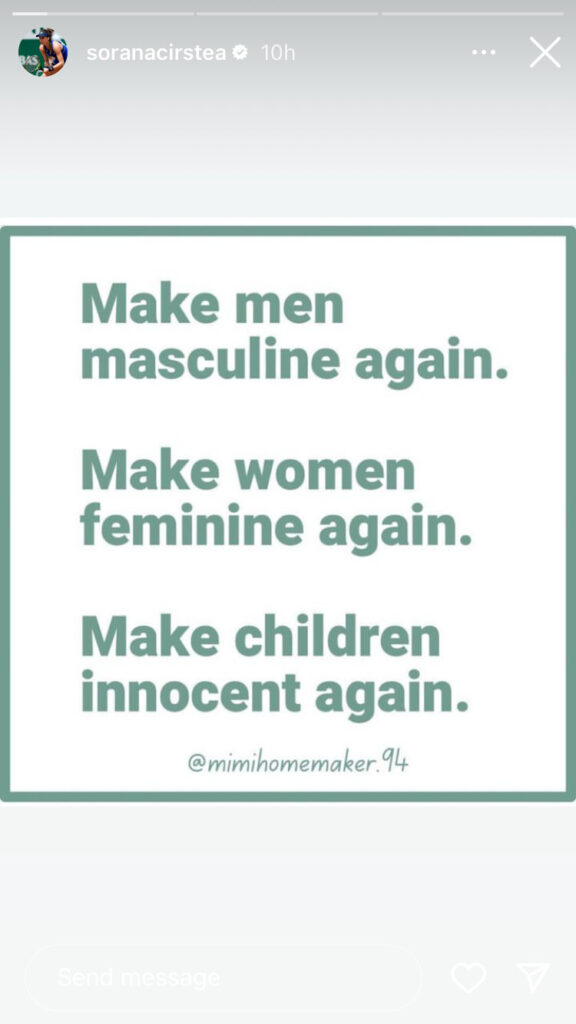 Otherwise entirely innocent, this message has been interpreted by progressists and LGBTQ activists as transphobic.
Sorana Carstea replied for Eurosport, explaining what was behind this message:
It was a message that came after I arrived at Wimbledon, and it was a positive message. Yesterday I saw the Princess of Wales, Kate. I was highly impressed by her elegance, the elegance of the ladies here, how nicely the men are dressed, all in suits and ties, and how much discipline in the children, what innocence. It all came from my admiration of mine for this tournament and all the beautiful things I've seen here that this tournament has.
It was a positive message that, in general, today could be interpreted any way, but the message was a positive one, related to the elegance of this tournament. I smile when I see how beautiful the world in the stands, how beautiful they are, the spectators here and how much class there is in this tournament. Hence the inspiration for this post. So the idea behind this post was a very positive one.

Sorana Carstea explains her post after being accuses of transphobia
So, we have to admit that the critics are utterly exaggerated. If one cannot urge women to be feminine and men masculine, all the values that the leftists promote, including the freedom of speech and the freedom to all people, disregard their opinion, is fake.
People should be allowed to express their opinion, no matter what. This is what freedom of speech means. Apart from that, one contrary opinion to the other, even to the majority, doesn't mean that opinion is right or wrong – it is just an opinion. Sorana Carstea should be left alone to express her opinions and ideas like anyone else.
This doesn't mean that Sorana is transphobic or that Romanians are homophobic. It means just one thing: Romanian people want to have the right to express their views. This means freedom of speech. This differentiates democracy from communism, which crippled Romania for 45 years until the so-called Revolution in 1989.
Maybe the Western and the local critics yearn for the return of communism in Europe. This might be a reality someday, as this is where all this progressivism heads to. But, until then, people must have the right to express their ideas. This is the basis of any democracy in the world, and last time Sorana checked, she understood she lived in a democratic Romania and a democratic European Union.