Romania celebrates Heroes' Day every year on Ascension Day. This day honors the memory of all those who have died on the battlefields over the centuries and it took place throughout the country. Symbolically, they will utter the names of the heroes who died fighting for the Romanian Army or in missions in the theatres.
In churches, tolling the bell is a way to remember all the known and unknown heroes fallen in battles throughout history. A moment of silence was held in all public institutions and schools as a tribute to the heroes of the homeland. In addition, flowers and candles was placed at the graves of the heroes.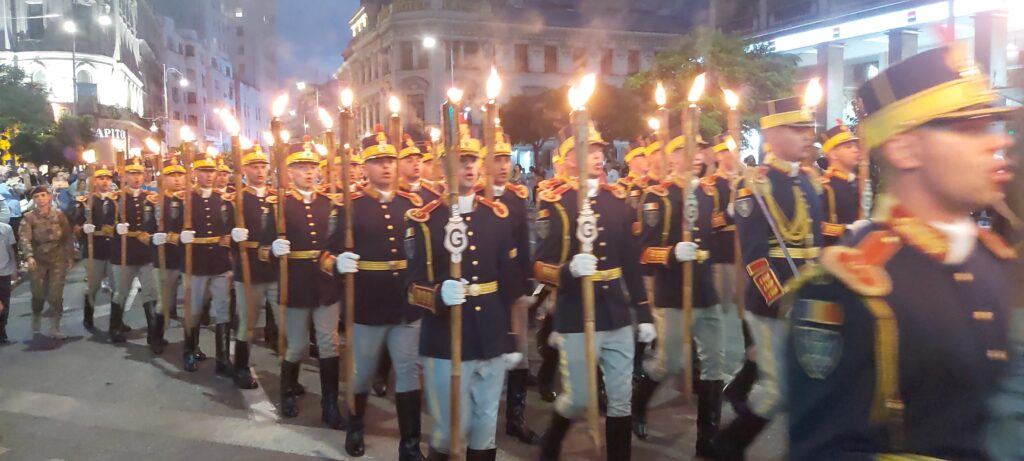 The people of Bucharest started to celebrate Heroes Day at Carol Park at the Tomb of the Unknown Soldier. Here, soldiers dressed in ceremonial uniforms and flowers laid a wreath in memory of all Romanian heroes. They also lit a torch from an eternal flame that was burning at the National Heroes Memorial in advance.
The highlight of the day was the torch-lit march by the Military Brigade 30 Guard ("Mihai Viteazul"), which took place at night in Bucharest along the route National Military Circle (Calea Victoriei) – Bulevardul Eroilor – Cotroceni Palace headquarters – Military Brigade 30 Guard ("Mihai Viteazul") headquarters.
The torches of the Military Brigade 30 Guard "Mihai Viteazul" were lit by Invictus Romania group veterans who had been wounded in theatres of operation. They were accompanied by military students.