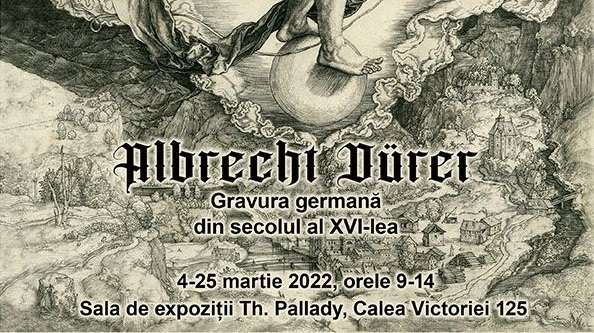 The exhibition "Albrecht Durer. German engraving in the 16th century", which presents over 150 works that give back the atmosphere of the German world from that period, will be opened, on Friday, in the "Theodor Pallady" Hall of the Library of the Romanian Academy.
In addition to the 67 metal and woodcuts made by the famous German artist, dozens of other engravings belonging to his disciples or rivals will be exhibited: Lucas Cranach, Hans Burgmair, Georg Pencz, Hans Sebald Beham. The exhibition will feature creations from the fantastic and mysterious cycle made in 1498 entitled "The Apocalypse of St. John of Pathmos", works belonging to the series entitled "Passions" or "Penance of St. Chrysostom", enigmatic and moralizing engravings as "Nemesis" and plates depicting episodes biblical or mythological, recurring themes that marked the artistic repertoire of the German and European Renaissance.
Durer's works (1471-1528) are surprising in their intensity and accuracy, derived from Albrecht Durer's passion for realism. The features of the engraved characters show a deep understanding of human nature by the artist, most of the characters becoming iconic images, whose style is still found in the approaches of creators in various fields of visual art.

The organizers of the Albrecht Durer exhibition
The event will be presented by the vice-president of the Romanian Academy Răzvan Theodorescu, president of the Department of arts, architecture, and audiovisual. The general director of the Library of the Romanian Academy, Nicolae Noica, and Cătălina Macovei, the curator of the exhibition, will also speak. The exhibition will be open from March 4 to 25 and can be visited from Monday to Friday, between 9.00 and 14.00, in compliance with all health regulations in force. Admission is free.